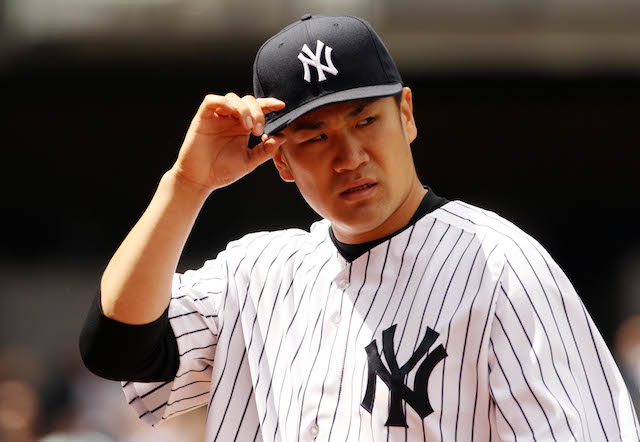 Stacey mentioned in her open thread yesterday that Joe Girardi stated that Masahiro Tanaka had to show Girardi something in Tanaka's last Spring Training game to get the nod for the Opening Day Starter. And while Girardi dismissed the importance of such an "honor" during an in-game interview over the weekend, I cannot help echoing Girardi's thought and expanding it for all of 2016. Masahiro Tanaka needs to show us something.
There is expectation that Tanaka is an ace...a top gun...an elite starter in the American League. The reality is that Tanaka has not been that guy since June 28, 2014. There have been stretches on the disabled list, concerns about his elbow--and most importantly--middle of the road pitching ever since that complete game loss to the Red Sox.
At this point, you can forget about the elbow. Yes, it might explode any time. But that can be said of every pitcher in baseball. He says he has been fine and so has everyone else. But his pitching has not been that fine..It has been adequate. For starters with at least 150 innings in 2015, Tanaka finished 57th in fWAR and 54th in FIP. That compares closest to Mike Pelfrey. Mike Pelfrey.
My observation is that it all starts with the fastball. So that is where I started when looking up data. I have no problem acknowledging that Tanaka has a devastating split finger pitch. But that pitch is most effective when set up by other pitches, especially the fastball. According to Fangraphs.com, Masahiro Tanaka's fastball rated 86th in baseball last year. To get a full gauge on that placement, 87 pitchers were rated as having thrown 150+ innings. The only fastball that was rated lower in baseball last year was Jered Weaver who throws his fastball these days at about pony league speed.
To make sure I wasn't being overly jaded here, I went further with those numbers. Fangraphs tends to lump all fastballs together including two-seam, four-seam, sinkers and cut fastballs. Using PitchF/X, they rate Tanaka's four-seam fastball as 82nd out of 87. That's not much better. According to PitchF/X, Tanaka also throws a sinker and that pitch was rated 15th. BUT, only twenty pitchers throw a sinker.
The bottom line is that Tanaka's fastball has become somewhat akin to Phil Hughes' when Hughes was starting for the Yankees. And it shows because either Tanaka has become more loathe to use the pitch or McCann is more loathe to call it. Again, according to Fangraphs, Tanaka's total fastballs as a percentage of his pitches went down in 2015 to 32.5%, eight percentage points lower than the year before. According to PitchF/X, only twelve pitchers with 150 or more innings threw less fastballs as a percentage than Tanaka.
I need other, more talented writers on this staff to look at spin rates, zone charts and the like to see if location is a problem or a lack of spin and movement. The only thing I see is that his fastball often gets crushed on the batter's sweet spot. That would lead to more homers and indeed, Tanaka's rate rose last year from 0.99 per nine innings in 2014 to 1.46 per nine.
It should also be noted that Tanaka's strikeout rate went down from 26% in 2014 to 22% in 2015. Without an effective fastball, it is harder to set up the split ahead in the count. It also might account for a slight rise in walk rate if Tanaka does not have confidence in the pitch.
Projection systems don't see a big improvement in 2016. Of the four I checked, only one was optimistic that Tanaka's 2016 will be better than his 2015. Time will tell. But I am inclined to agree.
Many fans and analysts point to CC Sabathia as being the weak link and the worry in the Yankees' rotation and rightly so. In my mind, Masahiro Tanaka is in the same category and is a part of the rotation that is causing me some serious doubt.
Read More