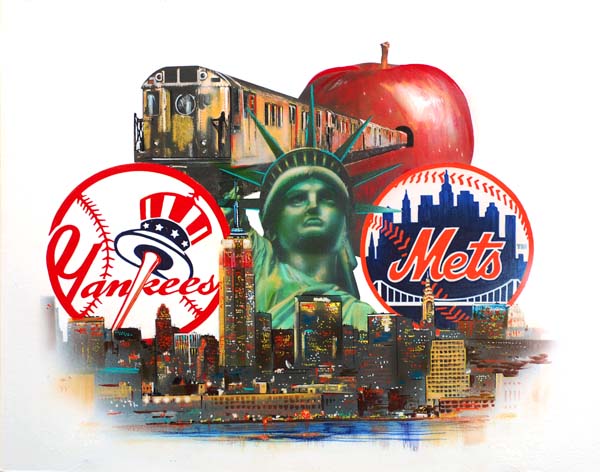 For the last few MLB seasons, there had been virtually no buzz when it came to the Subway Series. The Mets were still in their long run of futility and the Yankees had turned into a mediocre and boring team to watch. We have gone from that to the first Subway Series meeting ever between the two teams with both in first place in their respective divisions.
Also, the fact that the series had been dwindled down to four games a year took buzz away. It has returned to six games this year and I don't know why (maybe because the Yankees are playing NL East teams in interleague), but I'm happy about it. I have never understood the complaints about the Subway Series. I understand why Joe Torre and his players hated it, but from a fan's perspective these games are tons of fun.
Over a 162 game season it's interesting to have a few that stand out over the rest. The stadiums are juiced and there is a different feel in the air from just a normal game. How can people say the Subway Series is overplayed when the Yankees play the Red Sox 18 times a year? Do the Yankees need to play fewer games against the Mets so they can play the Twins and Indians more? Doesn't sound like a good trade off to me.
There is a different feel coming into this Subway Series than ever before. The Mets are the talk of the town in the midst of an 11-game winning streak. It has come mostly against bad baseball teams like the Braves, Marlins and Phillies, but 11 in a row against anybody is nothing to sneeze at and impressive no matter who the opponents are.
They've done it behind brilliant starting pitching and timely hitting. The Yankees will have to contend with Jacob deGrom and Matt Harvey in the first two games of this series, who have combined for 41 strikeouts and four walks this season.
Those two get all the hype with Harvey having a back page picture today of himself as the Dark Knight and Alex Rodriguez as the Joker (you could guess which paper that was), but Michael Pineda and CC Sabathia have combined for 40 strikeouts and six walks opposing them. That kind of exemplifies these two teams right now. The Mets are getting all the hype and press with the Yankees quietly going about their business, even though they are tied for first place themselves and playing well.
This is a big time prove it game for Pineda. He never gets mentioned in the same class as deGrom or Harvey as young pitchers in this town. If he can beat deGrom tonight maybe that would open some eyes on the kind of pitcher he is. Sabathia is a very prideful man as a former ace who said prior to the season that the Yankees would not let the Mets take the town from them. He would love nothing more than defeat the man who is most responsible for all the Mets hype.
I'm fascinated about the approach the Yankees will have against deGrom and Harvey. The Yankees lead MLB with a 10.8 percent walk rate this season and their patience has been perhaps the biggest reason why their offense has outdone expectations so far. Can they afford to be patient with deGrom and Harvey, who seem unlikely to be giving away free passes? It would be advantageous because the Mets bullpen is not very strong, but their best chance might be swinging early in the count against these guys. If you get to two strikes against either -- Harvey in particular-- your at-bat is pretty close to over.
The Yankees' 7-3 road trip has been mostly ignored or written off, probably because a lot of the writers who buried them after one week don't want to have egg on their faces already.This team seems to have a certain toughness quality to it this year that I have enjoyed. They never seem to give up on a game and have seemed to come through with more clutch hits than in recent years. The Yankees are a team full of prideful veterans who have certainly heard all the Mets hype and would love nothing more than to shut it up this weekend.