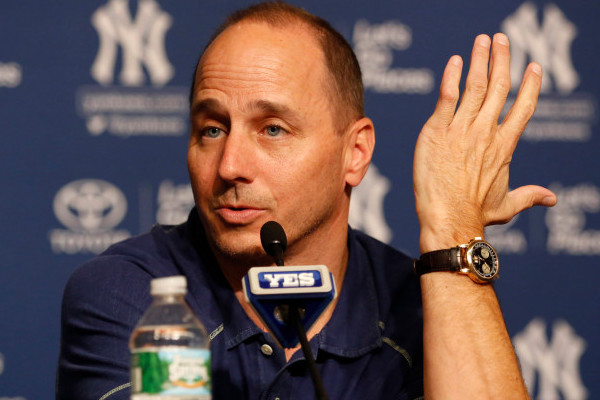 Brian Cashman is a huge source of controversy and disagreement among Yankees fans. There is the group of people who want him fired, and a group who still think he's a very competent general manager.
This became a big topic again last week when Hal Steinbrenner was noncommittal about signing Cashman to a new contract this winter.
"We're so busy right now, trying to figure out who's going to be playing in any given game, much less that," Steinbrenner said. "We'll be talking about that soon enough. But you know me. We've got enough things to worry about during the season. That's where our focus needs to be."
On the surface it seems silly to suggest firing a man who has a career record of 1,612-1,099 for his 16 years on the job.
The biggest argument I can see for letting Cashman go is that 16 years is a long time for anybody to be in a position. Cashman is only 47 years old, so you forget that he has been here so long. Sometimes an organization just needs fresh ideas and a different perspective after so many years. People can get tired of other people and a change of scenery is necessary for both sides.
It will be interesting to see if Steinbrenner doesn't move quickly on Cashman if he pursues other opportunities on his own. He has expressed his frustration in the past with ownership making decisions that he did not agree with, particularly with the acquisitions of Rafael Soriano and Alfonso Soriano. 
If the Yankees do not retain him Cashman would get another job in a second, which is how you know that he shouldn't be fired in the first place. He is a very forward thinking individual who got the Yankees into the new age of advanced metrics, and now they are one of the teams known for using them the most. That was not easy specifically when Joe Torre was still managing.
Cashman might be tired of the ridiculous expectations over the last 16 seasons. Also, he might be tired of hearing critics say he's only successful because of the Yankees' payroll advantage and might want to try to win in a smaller market. He has played the role of a smaller market general manager lately with him refusing to give up top prospects and finding some good deals in the free agency and trade market over the last few years.
MLB is now designed for teams to go through peaks and valleys. It is absolutely incredible that the Yankees made the postseason 16 out of 17 seasons from 1996 through 2012. It's an amazing achievement regardless that they only won one championship after 2001.
Right now they are in a transition period, and even the Yankees are allowed to go through that. Yes, it looks like they will miss the playoffs for the second consecutive year, but it's not like they have won 65 games in the last two years either. Most fans would love for their team to win 85 wins in a "down" season.
Currently, the Los Angeles Dodgers are the only team with a top five payroll in MLB who is first in their division, and the other four teams are not even within six games of the lead. So, it is hard to argue that payroll guarantees anything anymore in MLB.
The Yankees still have a $214 million payroll, so the expectations were still World Series or bust for this season. The reality is that that they are still trying to replace the core they lost from the 2009 championship team and that takes time. Again, the system is not set up for anybody to go on a 17 year again run like the Yankees did, so it is fine for them to go through a transitional period.
How much is Cashman to blame for this season? It's always hard to evaluate him because you do not know what decisions were his or ownership's. For example, did Cashman really want to get rid of Robinson Cano or did ownership just not want to give him the long and big contract? Cano would have been much more worth the money than the other free agents they did end up signing.
Is it Cashman's fault that Jacoby Ellsbury, Carlos Beltran and Brian McCann have under performed so much hitting? It's hard to say anybody saw the trio hitting this poorly in 2014. Maybe down the road in their contracts, but certainly not this season. There was nothing they did last year to suggest that they would hit like they have.
If you told Cashman that he would get relatively healthy seasons from Mark Teixiera and Derek Jeter and a career year from Brett Gardner he would have been ecstatic since the new middle of the order was not supposed to be such an issue.
Is it Cashman's fault that four of his five top pitchers went down with injuries? This would be a nail in the coffin for pretty much any team, but Cashman has done a great job getting consistency from Brandon McCarthy, Shane Greene, Chris Capuano and David Phelps before his injury. Still with the way Masahiro Tanaka and Michael Pineda have pitched when healthy the team would be in much better shape if they had pitched the whole season.
The farm system has taken a noticeable leap this season with performances from Aaron Judge, Luis Severino, Rob Refsnyder, Jacob Lindgren and Greg Bird. Cashman has been unwilling to trade his top prospects because he can see how MLB is changing and you can no longer rely on free agency.
If you were to fire Cashman you would have to find somebody who you perceive to be better. It would be hard to find somebody with Cashman's resume, and letting him go for somebody with no experience is very risky. How do you know that guy would do a better job? Whatever happens with Cashman will be the top story to watch this winter for the Yankees.